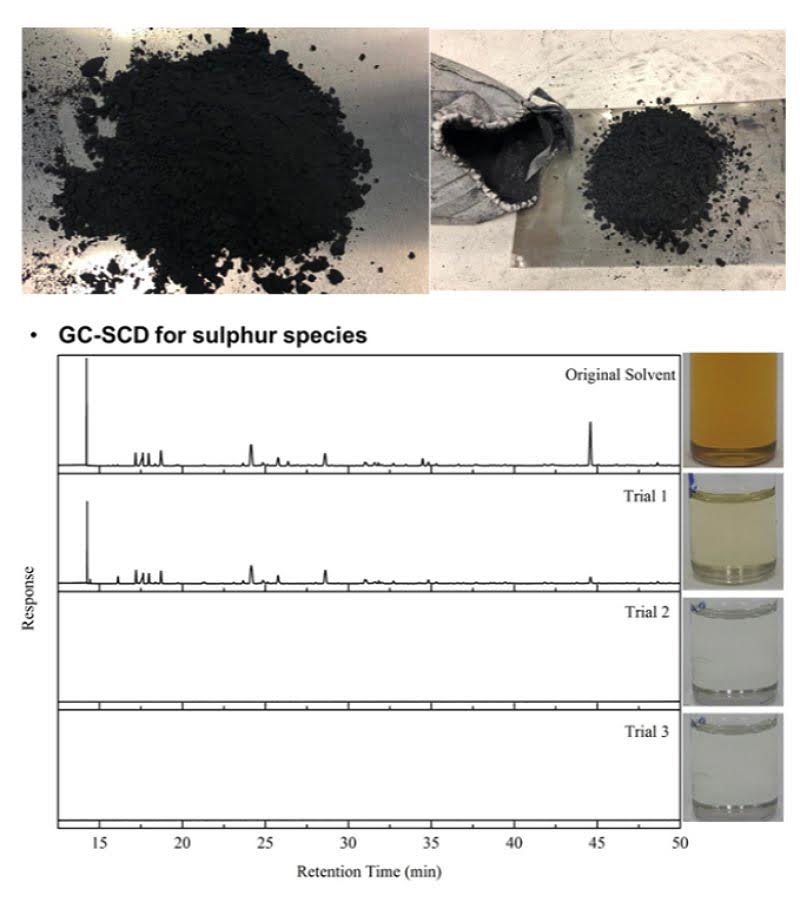 Activated Carbon, High Quality Carbon Black and Low Odour Aromatic White Solvent – all made from End-of-life Tyres.
Pearl Global have successfully developed 3 high value products from end-of-life tyres;
Carbon Black valued up to $USD 2000 per ton.
Low Odour Aromatic White Solvent valued up to $USD 5 per litre.
Activated Carbon specifically designed for mercury removal from coal fired power station air emissions valued up to $USD 2200 per ton.
Additionally, Pearl have trialled a secret recipe degreaser using solvent from end-of-life tyres that has outperformed in laboratory testing commercially available competitor products. This degreaser product significantly increases the value of the Pearls low odour aromatic white solvent to greater than $USD 20 per litre.
Over 50 million tyres reach the end of their time on the road each year in Australia alone, and the number is increasing. 65% of these tyres end up in landfill according to Tyre Stewardship Australia. The majority of recycled end of life tyres have been historically baled and send overseas as tyre derived fuel. From December 2021 Australia shall no longer be able to send end of life tyres that have not been processed into a 'value-added material' overseas, including baled tyres.
Tyre pyrolysis is the thermal treatment of tyres in the absence of oxygen. Pearl has developed and patented a process that both economically and environmentally positive, treats end of life tyres through its thermal desorption plants. These plants effectively make 4 raw products;
Carbon char
Tyre derived oil
Steel and
Gas
In some countries, commercial interests using similar processes, sell carbon char as Recovered Carbon Black or rCB. While RCB is high in pure carbon it is also high in ash content from the additives that are added to tyres in the manufacturing process, in particular silicon, calcium and zinc. This ash content limits the use of rCB as a carbon black and therefor does not attract the same value as a high-quality carbon black.
Pearl, working with the Centre for Energy at University of Western Australia (UWA) , have developed a process that makes a very high quality carbon black, not from the carbon char but from the tyre derived oil. This process will be patented shortly.
Tyre derived oil, as produced by the Pearl process, produces an oil that is about 30% by weight rich in aromatic solvents such as toluene, xylene and limonene. These chemicals are valuable in their own right. Unfortunately, sulphur compounds used in the vulcanising process when manufacturing tyres create very odorous compounds that are present in tyre derived oil. Traditionally, hydrotreating has been used by the petroleum industry to remove sulphur from crude oil. This process is awfully expensive in capital cost, operating cost, and energy costs. The other downside to the hydrotreating process is that the very chemicals that are lucrative to recover are destroyed by the process.
Pearl and the team at UWA have developed a process that not only removes the odorous compounds but does not destroy the lucrative chemicals. This process will also be patented and supported by field trials of the Pearl Degreaser product with the help of cornerstone investor in Pearl, Capricorn.
According to data from Australia's National Pollutant Inventory, Victoria's coal-fired power stations released more than a tonne of mercury into the atmosphere during 2017-18. Much of that could have been avoided if available emissions-capture technology were retrofitted according to experts as reported by the ABC. The level of mercury emitted by Australian coal-fired power plants is quite low compared to others such as the United States.
State of the art control of mercury emissions from coal-fired power stations can be achieved by Activated Carbon Injection according to the USEPA
Pearl, with its research partners at UWA, have developed an activated carbon from its carbon char that has been specifically enhanced through the retention of zinc within the porous structure combined with numerous large volume mesopores within the chemical structure that specifically targets the adsorption of mercury. The end result is an activated carbon that has an adsorption capacity 2 x better than your typical commercial high grade activated carbon. This process will also be patented shortly.
1https://www.abc.net.au/news/science/2019-04-01/coal-fired-power-emissions-mercury/10958128
2https://www3.epa.gov/airtoxics/utility/hgwhitepaperfinal.pdf